Coronavirus Update
21-03-20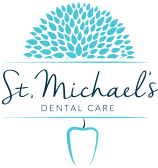 You are probably aware that the situation has changed with regards to how dentistry will be delivered while the country is affected by the Covid-19 virus – this means that the St. Michael's Dental Care Team will be changing the way we provide our services and includes:
We will be following the guidelines set out by the Chief Dental Officer England to provide emergency dental care to new and existing patients.
We will contact patients the day before treatment to confirm that they are symptom free.
We will reschedule appointments for any patients that exhibit symptoms on the day of their appointment.
We will reduce the number of patients that we see each day to ensure that social distancing is maintained throughout this period.
We are increasing the frequency of disinfecting our working areas between patients.
We have increased the level of personal protective equipment worn by the team to safeguard patients and staff.
We will insist that all patients enter the practice on their own.
Our intent is to keep calm and carry on throughout this disruption, and these new measures should ensure that we are able to do so.
Best wishes and stay healthy,
The SMDC Team