SkinCeuticals Peels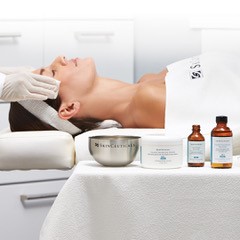 What Is A Chemical Peel?
A chemical peel is a skin treatment which is used to improve and smooth out the surface of the facial skin. A chemical solution is used to remove top layers of skin which allows the dead surface skin to peel off. The peeling process leads to new skin growth which is usually smoother, healthier and less wrinkled compared to the old skin. Chemical peels should be performed by aesthetic professionals such as aesthetic doctors, dentists, nurses , beauty therapists and medical aestheticians.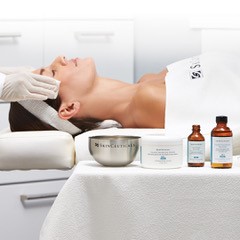 Which Peel is Right For Me?
There are four different types of SkinCeuticals Peels at St. Michael's Dental Care:
Gel Peel ( 20% glycolic/ 10% lactic mixture, mediterranean fruit vinegar, gel formulation.)
MicroPeel (AHA – Glycolic Acid 20% – pH 1.6 or 30% pH 1.4
MicroPeel Plus (BHA – Salicylic Acid 20% no pH or 30% no pH + Glycolic Acid 3%)
The Pigment Balancing Peel (Glycolic Acid 40% + Citric Acid 10% + 27% pure Vitamin C + 4% Emblica pH 1.6).
They are categorized by the strength of the acid solution used in the peel and how deeply they penetrate the skin and what condition we are treating for what you may be best suited for. We will discuss this in our consultation with you.
A SkinCeutical Chemical Peel can:
Improve skin texture and radiance
Help maintain firm skin
Diminish the appearance of fine lines and wrinkles
Even-out skin tone
Help acne-prone skin Revitalize sensitive skin while decongesting pores
How Do Skinceuticals Peels Work?
The peel speeds up your natural skin's healing process by stimulating the production of collagen and improving elastin fibres which give skin its youthful form and shape. It also revitalizes sensitive skin and helps improve the appearance of irritated or inflamed skin. In-office epidermal peels are a non-invasive way to immediately resurface and improve the health of skin with no downtime.
The Peel Procedure
During the peel your skin will be cleansed and toned and the chemical peel will be applied to your skin using a gentle brush, swab or gauze and the peel will be left on the skin for between two and five minutes, during which time some patients may experience a mild tingling or a mild burning sensation. The procedure is not painful. After the peel a cool compresses may be applied to the skin. Your skin will be moisturized and an antioxidant and a sun screen will be applied to the skin.
How Many Peels Do I Need?
Whilst you may see some very minor benefits after a single superficial peel. We recommend a course of six peels, one or two weeks apart (depending on your skin type and skin conditions).
This will give the best results, as superficial peels are gentler the full benefits of the peels build up over a course of six treatments. After a course of six peels you can have a once monthly maintenance peel or wait for three months before embarking on another course of peels.
For more information, or to book a facial aesthetics consultation, please click here or call or call 01622 758537.