SkinCeuticals®
SkinCeuticals® is a skincare range that aims to reduce fine lines and wrinkles. Using a treatment regimen that includes both a clinical and at-home skincare routine, it is easy to follow and maintain.

These treatments are designed to complement the in-clinic care that is done, using pre-conditioning, post-treatment, and daily use products. In-clinic care involves professional treatments that target different skin problems. The chemical peels help encourage collagen production, smooth and soften the skin, and even out the skin tone. The at-home care is customised for each patient, taking into account their unique skin condition.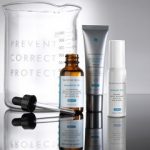 St. Michael's Dental Care are proud to be an authorised retailer for SkinCeuticals skin care products to complement our Skin peels and other facial aesthetic treatments.
These products are developed by dematologists and are designed to protect against sun damage and harmful free radicals.
Using the products will help you to achieve healthy skin by targeting and reversing the most common signs of ageing and external damage.